Schon 1947 verfasste er mit unverhohlener Begeisterung ein Vorwort in einem Essay über ihre Methode der symbolischen Realisation. Drei Jahre später, 1950, als der P.U. F. Verlag (Presses Universitaire de France) noch in seinen Kinderschuhen steckte, erschien das Tagebuch einer Schizophrenen, welches das Werk von Frau Sechehaye endgültig in die Nachwelt trug.

Heute, obwohl schon 50 Jahre verflossen sind, ist die vielversprechende Inspiration dieser Schweizer Psychologin bei der Behandlung ihrer Kranken Renée noch immer unbestreitbar. Unzählbar sind die Neuauflagen ihrer Texte im französischen Sprachraum. Unzählbar die Übersetzungen, ganz zu schweigen von den Referenzen, die ihr nachfolgende Autoren zukommen ließen bzw. zukommen lassen.

Obwohl wir uns nicht an ein systematisches Vorgehen gebunden haben, um die noch deutlich gezeichneten Spuren dieses Einflusses zu inventarisieren (schwierige Aufgabe, um nicht zu sagen unmöglich), so zeigen doch die zahlreichen von mir gesammelten Zitate, daß die Kenntnis des Falls von Renée sich über die Ländergrenzen hinaus verbreitet hat.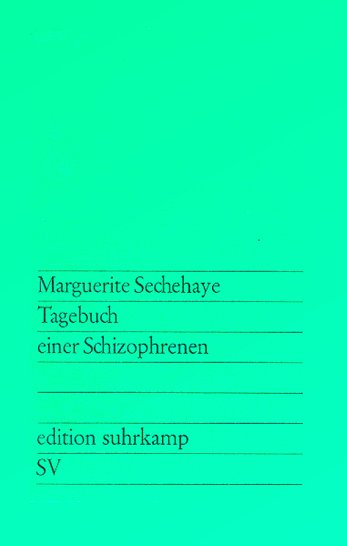 As soon as 1947, he indeed wrote the foreword of the test to her on her method of symbolic realisation with a non dissimulated passion.
Three years later, in 1950, and whereas the University Presses of France are still at their beginnings, it is the publication of the Autobiography of a schizophrenic girl which will definitively carry Mrs. Sechehaye's work to the posterity.
Today, whereas fifty years have passed, nothing of what had prevailed with the inspiration of this Swiss psychologist in the control of the treatment of her patient was contradicted. One does not count any more the number of reéditions in latin languages anymore. One does not count any more the number of translations and even less the number of references carried out by the authors who succeeded to her anymore.
Although we didn't make a systematic approach to gather the still long-lived traces of this influence (difficult task not to say impossible), the many quotations which we succeeded in gathering testify that the knowledge of Renee's case was transmitted beyond the borders.